Select library services continue during COVID-19. More information is available here.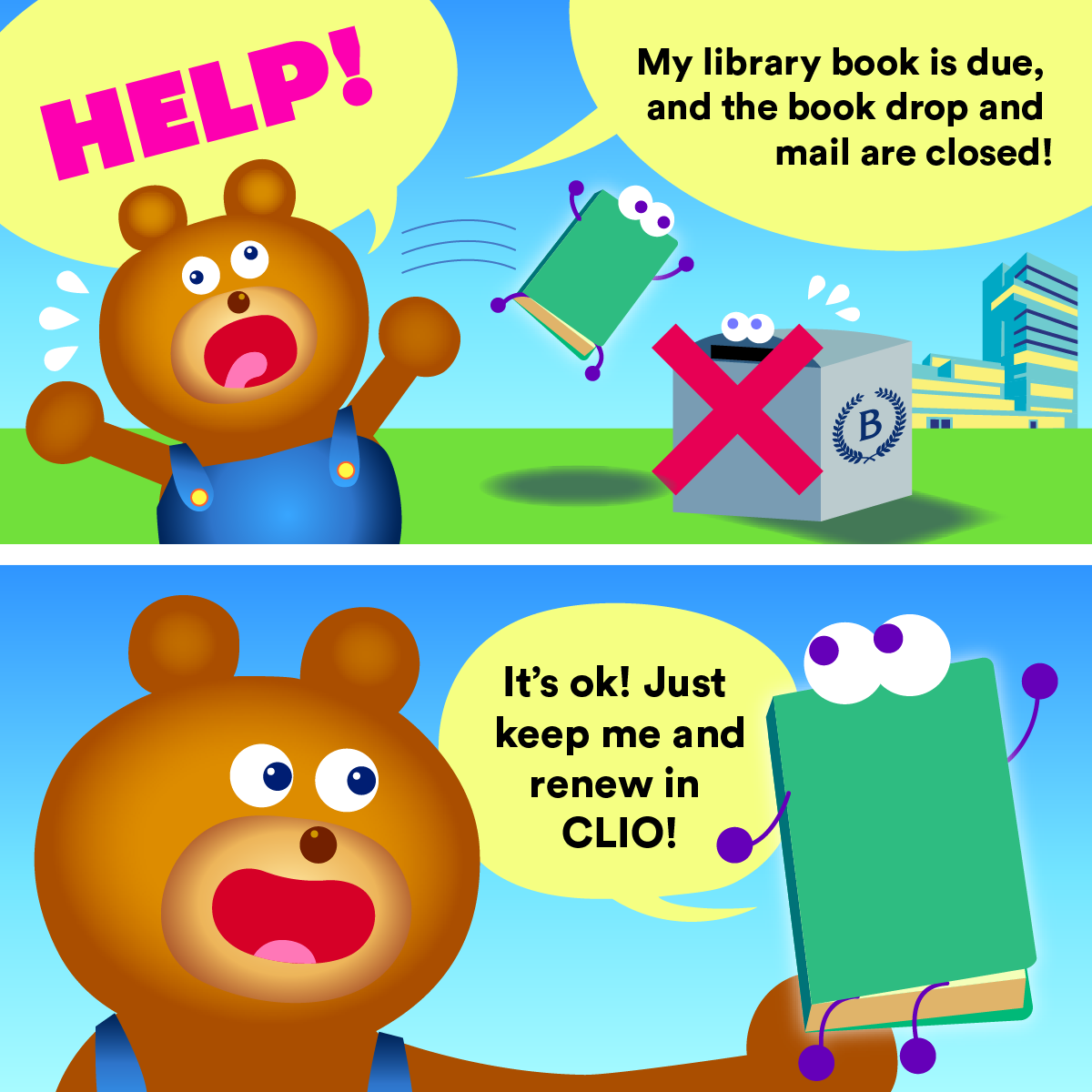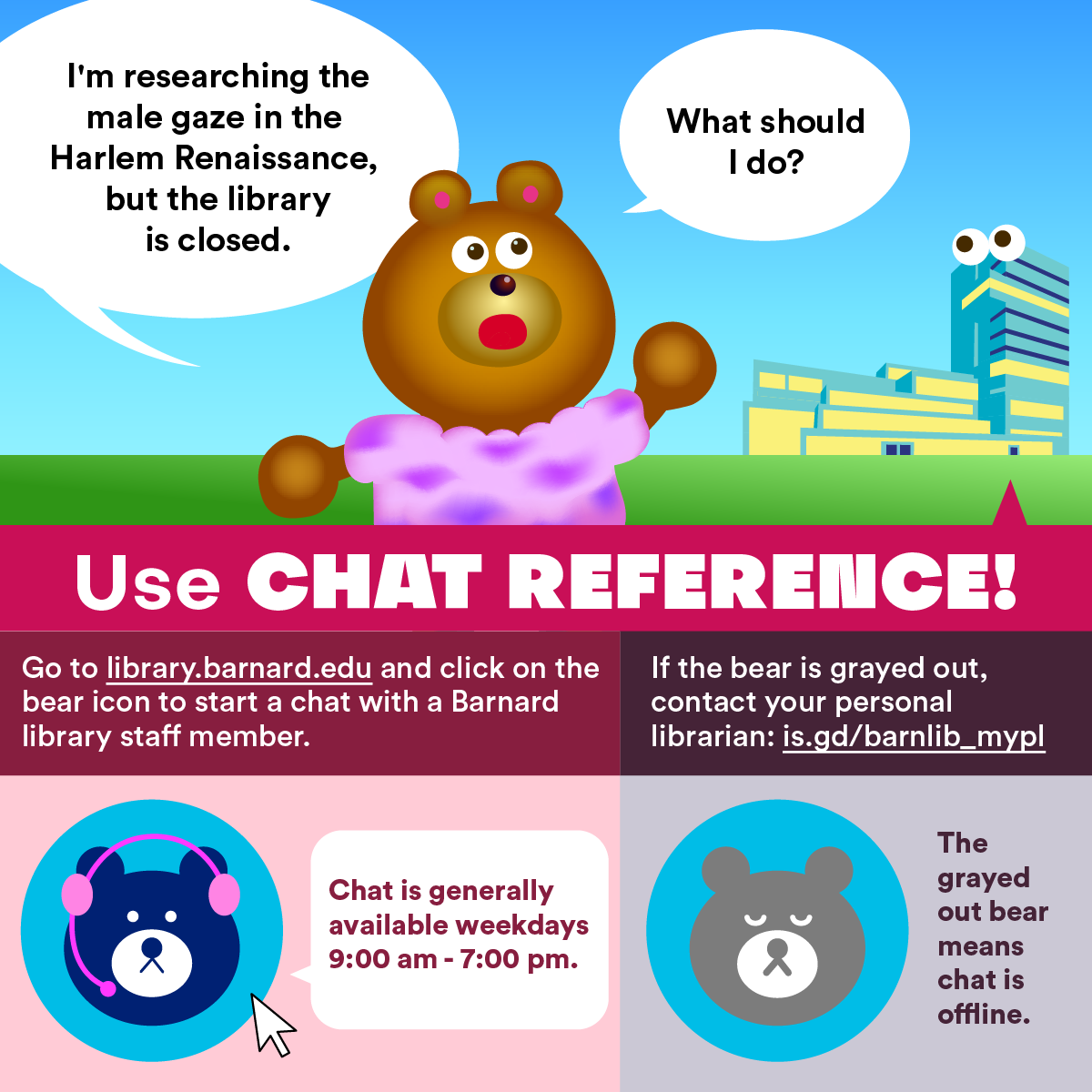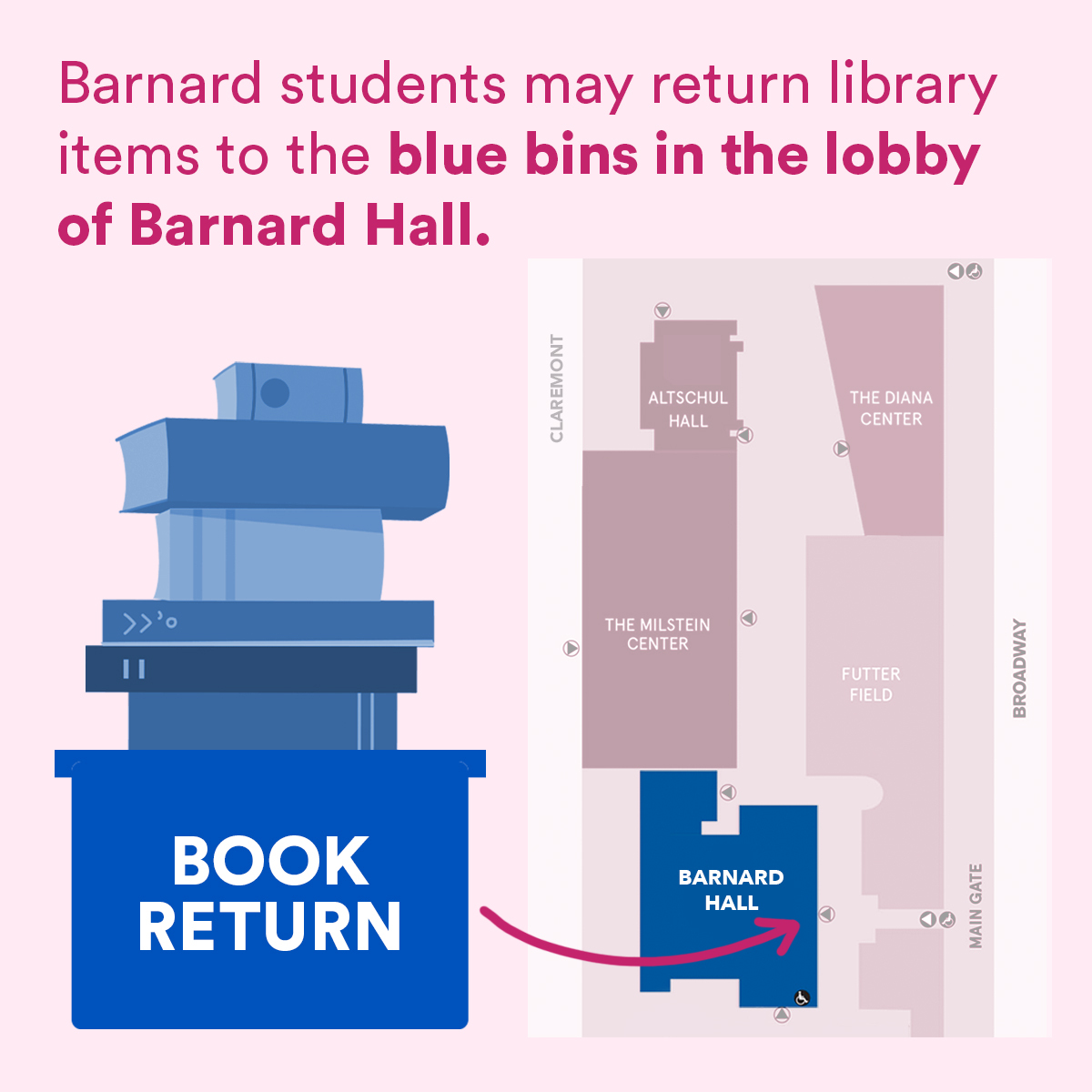 EVENTS
Weekly Prompt from Featured Artist: Mimi Yin
Friday, May 1-Wednesday, May 6, 4:00-6:00pm |  Virtual Movement Lab
This week's creative prompt by Featured Artist Mimi Yin will be released Friday, May 1. Responses may take any form—videos, poetry, artwork, journal entries, or anything else you want. Please send us your work by email or by tagging us on Instagram @movementlabbarnard. Postings of Mimi's work & your responses will follow on our website, FB & instagram. 
Design Talks Series: Using Collage for Art & Editorial Illustration with Emily Haasch
Friday, May 1, 6:00–7:00pm | Zoom
From an ever-evolving art form to a method of storytelling, collage is a medium with limitless applications. Artist, illustrator, and art director Emily Haasch will walk through their ongoing practice as a collage artist, and how it translates to the practice of editorial illustration via perception, conceptual thinking, and journalistic storytelling.
Zines for Fun, Fighting the Power, and Self-Documentation
Tuesday, May 5, 3:00-5:00pm | Zoom
https://is.gd/barnardzines_may52020
We will make eight-page, quarter-size zines (that's different from a one-page folding zine, which you may have made in a workshop before).
***No prior zine experience is expected or necessary!***
We'll explore different zine content types & styles. Bring paper, scissors, and art supplies. Recommended, but not required: snacks.
RSVP for the zine workshop here.
Design Center Safety Training
Tuesday, May 5, 5:00–5:30pm | Zoom
https://columbiauniversity.zoom.us/j/159145445
Coding Choreography Showcase
Friday, May 8, 11:00am - 1:00pm | Virtual Movement Lab 
Come see the works developed during Professor Mimi Yin's Coding Choreography course. Enjoy the choreographic/computer interactive performances created in this joint Barnard/NYU ITP class. 
Weekly Prompt from Featured Artist: LaJuné
Friday, May 8-Friday, May 15, 12:00pm | Virtual Movement Lab
This week's creative prompt is brought to us by featured artist, LaJuné, & will be released Friday, May 8. Responses may take any form—videos, poetry, artwork, journal entries, or anything else you want. Please send us your work by email or by tagging us on Instagram @movementlabbarnard. Postings of LaJuné's work & your responses will follow on our website, FB & instagram. 
Design Talks Series: Bookbinding at Home with Erin Fae
Friday, May 8, 6:00-7:00pm | Zoom
During this workshop, Erin will teach you how to make different bookbinding structures and stitches from her home letterpress and bookbinding studio. 
Zoom Chat with Featured Artist: LaJuné
Thursday, May 14, 12:00pm | Virtual Movement Lab 
Join us for a live streamed ZOOM chat with LaJuné, our featured artist of the week.
Design Talks Series: Deconstructing Design with Elanur Erdogan
Friday, May 15, 6:00-7:00pm | Zoom
Elanur Erdogan will share the story of her career as a designer. As a designer Elanur constructs literal methods to communicate abstract ideas. She will dissect her distinct creative process and how she takes an idea and constructs it into a physical product. 
STAFF NEWS
Congratulations, Taylor Faires!
Post-Baccalaureate Fellow for the Digital Humanities Taylor Faires will begin graduate study at the University of Michigan School of Information, (aka library school) in the fall, on a full scholarship.
PROFESSIONAL NEWS
Mya Nunnally on BookRiot
Barnard student Mya Nunnally was published on BookRiot with their article "Forced out of college early, I'll miss my library most." The article describes their experience of having to leave college during their senior year due to COVID-19. Find out more about Mya here.
Taylor Faires Performed at Unearth NYC
Post-Baccalaureate Fellow in the Digital Humanities Taylor Faires performed environmentally focused songs, including one from a podcast-musical she runs with Eden Ariel BC '19 (who co-organized the event) at Unearth NYC, an environmental justice-themed digital zine release party, performance event, and celebration of Earth Week 2020 hosted via Zoom. Learn more about UnearthNYC on their instagram.
ARCHIVES
Rooming at Barnard
Maya Garfinkel, BC '19 won a Barnard Library Research Award for her project Rooming at Barnard. She used the grant to research Barnard student housing, conceptions of safety, neighborhood relations, and housing activism, using materials in the Barnard Archives. She created a website, with an interactive map to share what she learned. Izzi Sibbers, the Post-Baccalaureate Fellow in the Empirical Reasoning Center, also BC '19, helped Maya create the map.
Documenting COVID-19
Archives staff are working on a project to document the impact of COVID-19 on the Barnard community. We are collecting official communications from the College, archiving websites, and building a collaborative collection with the Barnard community.
We welcome your voices:
Share a website, news story, or social media feed/post that reflects the impact of COVID-19 on Barnard for inclusion in a collaborative web archive (submit via this form)
For faculty: if you have added or are thinking about adding a journaling or other documentation-based assignment to your syllabus, email archives@barnard.edu to discuss a class or individual donation to the archives.
We welcome other donations of materials documenting COVID-19 and its impact on the Barnard community; please email archives@barnard.edu to discuss how to transfer digital or paper/analog records to the archives.
Columbia University has also shared their documentation efforts; Barnard students, faculty, staff, and alums are encouraged to complete the Columbia University survey. More information about Columbia University's COVID-19 documentation efforts is available here.
CEP 
Remote Learning Fellows 
Have a question about using Zoom? Not sure how to participate in an online discussion? Adjusting to online learning can present new challenges and Remote Learning Student Fellows are here to help! Student Fellows can help answer questions, brainstorm solutions to issues you might be facing, and share tips and strategies to support your learning. 
These include: Troubleshooting technology (Student Fellows are trained in Zoom and Canvas!), communicating with your instructors, best approaches to online participation/assignments/assessments, creating a dedicated study space and structuring your day, tips for researching remotely, and taking care of yourself and your community. Student Fellows will be hosting drop-in hours on Zoom every weekday. 
Zoom Link: https://columbiauniversity.zoom.us/j/187443683
COLLECTIONS
We now have audiobooks! Browse the audiobook collection here.
Feminist E-Book Reading List
Barnard Library has created the Barnard Intersectional Feminist eBook Reading List to offer some vital and nourishing ebooks for Barnard students, staff, and faculty to read from anywhere. This is a list of fiction and creative nonfiction written by women authors of color, LGBTQ authors, or authors of more than one of these and other historically marginalized identities. These are books to help us know ourselves and connect with each other. You can read online or, in many cases, download and read. We're adding to this list, so it will keep growing! Take a look at our list here.
ERC
The ERC has arranged virtual help desk and scheduled appointment hours. You can find out the hours for each (help desk vs. appointment), who is staffing them, and their skills at: https://erc.barnard.edu/visit-us.  Please also note that when accessing the help desk, they will be taken to the "waiting room" and will be admitted on a first come, first served basis.
IMATS
IMATS now has a Zoom Webinar account, and our license can allow for hosting events up to 1,000 people, with additional presenter features. The AV team (working with Events) will support several online events towards the end of the semester, including an Honors Assembly, Phi Beta Kappa ceremony, WGSS senior thesis presentations, the Dance department senior graduation, and Theater productions. (Virtual event support form is here https://docs.google.com/forms/d/e/1FAIpQLScm4ZtCGDXQG4-E1InxCYM6Rvs4FjFRE-4SlBXL33v9UeInHg/viewform).
MEDIA CENTER
The Media Center has formed a Documentary Working Group to help members of the Barnard College community create media-based documentation around the effect of COVID-19 on their lives, the lives of their loved ones, and the world around them. To figure out how to best facilitate this, we are gauging the interest of community members. Please let us know know of your interest by filling out this form: https://forms.gle/2ExhiTfV88FEeQML9
MOVEMENT LAB
The Movement Lab reconfigured the Moving Body-Moving Image Festival as an online event, creating an opportunity to come together as a global community to reflect through these beautiful films, on our shared humanity, and our elders. The Movement Lab is keeping up the conversation on their website, where the conversation, VR films, and resources on aging and dementia are available to view. Watch the discussion on aging, download the program, share your thoughts, send us films.
COURSE RESERVES
Teaching a Barnard course this fall? Help support Barnard's commitment to accessibility by working with us to ensure your course materials are available to students at no cost.
As soon as you start considering books, films, and other materials required for your course(s), please complete the Barnard Library Course Reserves Request Form. We especially ask to hear from you if you are teaching a core or required course in STEM, in the social sciences, or in language learning. We know from assessing our textbook programs that students most need Library support to access required expensive textbooks in these courses. Your response to the form supports student access to materials through both of the Barnard Library's textbook accessibility programs: the Barnard FLI Library and Barnard Course Reserves.
PERSONAL LIBRARIANS 
Chat with a Librarian is Back! Just look for the Millie icon on the top of our website. If our librarians are offline, you can also try Columbia's Ask a Librarian feature which now has extended hours, or reach out to your Personal Librarian for assistance.
Personal Librarians have put together a guide to remote library resources to help support your research during the building closure. Access the Remote Library Services guide here. 
ZINES
Barnard Zine Library staff are collecting COVID-19 themed zines made by womxn, nonbinary people, and all members of the Barnard community. We will gladly buy two copies of your zine via PayPal.* We can provide a postal address (the zine librarian's home) or can print black and white pdfs on 8.5x11 paper. Email zines@barnard.edu to connect with us. As of April 27, we have 30 zines in CLIO, some of them with download links.
*High end zines are out of scope, meaning zines that cost more than $8 or so.