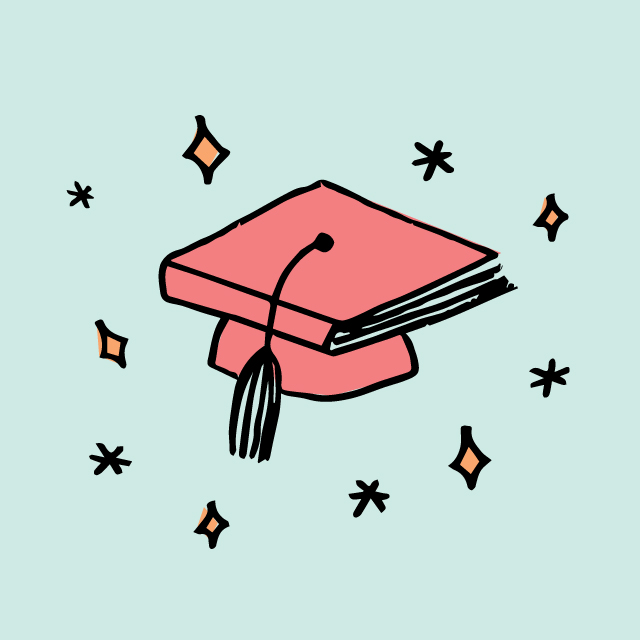 Class of 2019--you're going to graduate, and we're going to miss you! Before you get all teary-eyed and start kissing the zine stacks goodbye, we're here to tell you that you can come back anytime, because you've got library privileges, baby!
Since we love you so, Barnard alums have free access to reading and borrowing privileges at the Barnard Library. Be warned, though--the loan period is shorter for alums (four weeks), and you need to renew items IRL at the circ desk. You also have full privileges at the Archives, which hold tons of resources on the history of the College. And last but not least, you'll have access to the scanners and computers in the Milstein Center (though no printing quota, so you'll have to go print that copy of your Liz's Place fanzine elsewhere).  All you have to do is bring a photo ID to the Circulation & Help Desk. We will set you up to check out materials and to update your UNI on library computers. Alternately, get your official alum photo ID from the Alumnae Relationss Office.
If you want to access the Milstein Center stacks floors when the turnstiles are up, or if you need a book from any of the other libs in the Columbia system (or if you just want to sit in Butler 209 and pretend you're 18 again), you can get a free University Alumni ID that enables lifetime access and reading privileges in all the CU library facilities. Bring a valid government-issued photo ID to the Library Information Office (201 Butler) to apply for this card. If you want to borrow a book from one of these libraries, you'll need to purchase borrowing privileges for $30 per month. Borrowing privileges cannot be used at the Teacher's College, Law, or Health Sciences libraries, nor at any of the non-circulating libraries, like Avery.
Access to some licensed databases expires three months after the end of the last semester you were enrolled (read: download all those super-hard-to-find anthropology readings before the August after you graduate. You have lifetime, off-campus access to many other e-resources, however, including JSTOR, gutenberg-e, and ProQuest. Check out the full list. In order to access these resources, you may need to re-activate your uni or change your password
We'll miss you, class of 2019! From paint night in Lehman Hall to the dramatic relocation of the Magnolia Tree to the temp space in the LeFrak Center, to the glorious Milstein Center, we've been through a lot together. Keep up to date on all things @barnlib with our Instagram, Twitter, and Facebook. And come back and see us soon, okay?