CourseWorks (Canvas) Faculty Guide
Introduction to CourseWorks (Canvas)
CourseWorks (Canvas) is Barnard and Columbia's learning management system. For courses held online, hybrid, or in-person, your CourseWorks site can serve as your virtual classroom, a home base where students can find all the relevant information for your course.
To clear up some confusion about the name: At Columbia and Barnard, the names CourseWorks and Canvas are often used interchangeably, and essentially refer to the same thing. Technically, Canvas is the brand name for the learning management system, and is the name used by others outside of Columbia University. CourseWorks is the name for the Columbia's specific set up of Canvas. 
Logging In
You can log into CourseWorks by using your Columbia UNI and password at courseworks.columbia.edu. Once you're logged in, you'll be taken to your dashboard, where you can see all your courses. You can also access your courses through the My Courses or Courses buttons on the left-hand navigation.
Are you an auditor who needs guest access to CourseWorks (Canvas)? Fill out our guest access request form. 
Setting Up Your Course
Once you've found your course, you can start adding information! Below, we'll go over some key features, integrations, and tips on putting your course together.
Editing Your Course Description
Your course description appears both in CourseWorks and in Vergil. Please update it before the semester begins, with information about your intended course modality - this is very helpful for students deciding on courses during the shopping period. To edit:
Login to CourseWorks, and navigate to the course that you want to edit. Once in the course, click on the settings link [1] in the left-hand navigation bar.
Write information about your course modality and any other details you want to share in the course description box [2].
Click update course details [3]. The changes should be reflected in Vergil / Directory of Courses within 24 hours. 
Image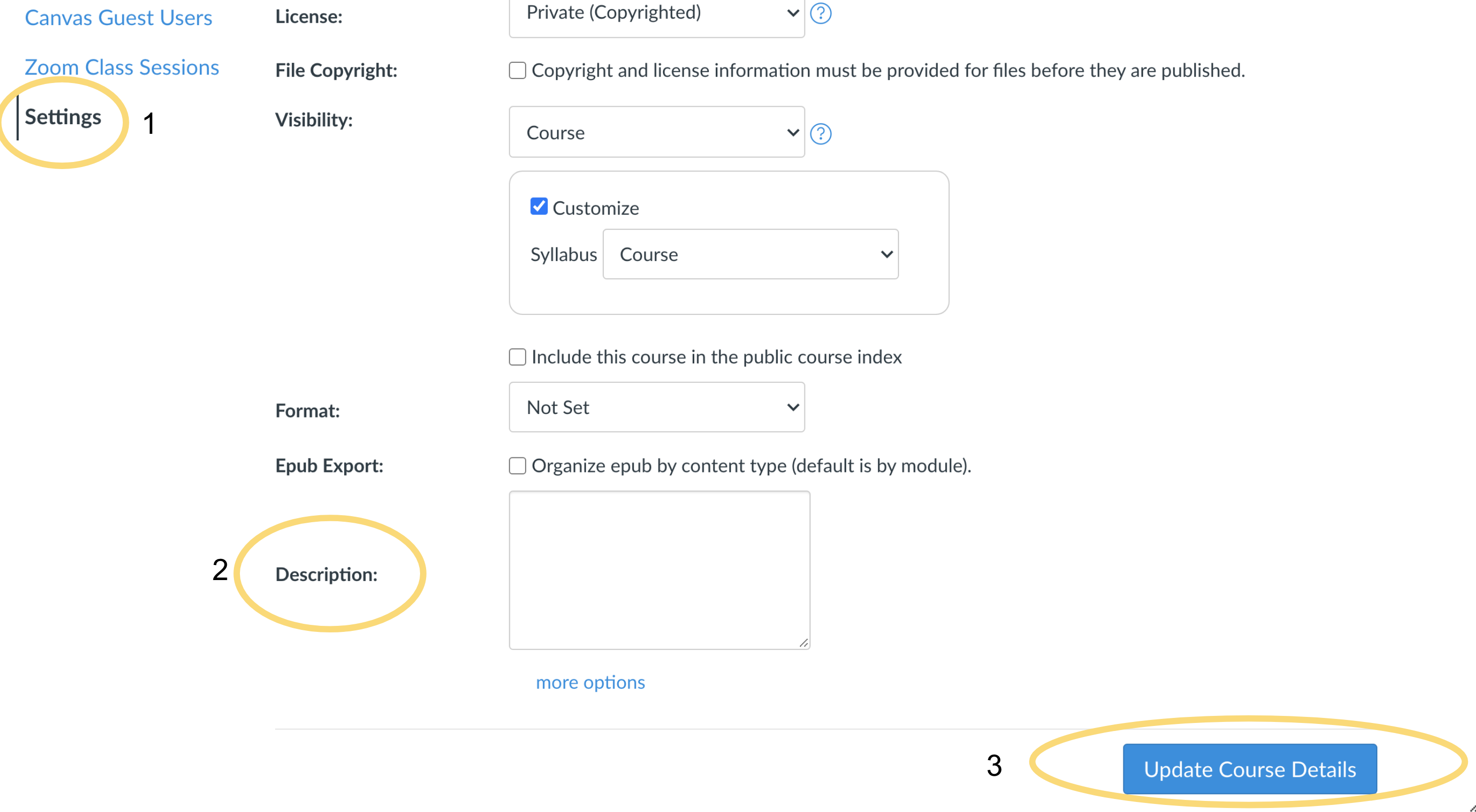 Assessment & Grading Tools
Content & Organization Tools
Community & Communication Tools
Video & Recording Integrations
Zoom Class Sessions is where you will set up and access your synchronous Zoom calls for your course. For more information on Zoom, take a look at our Zoom Faculty Guide and Columbia's Teaching with Zoom guide.
The Class Video Recordings (Panopto) tab is where you'll find your Zoom course recordings. Panopto can also be used for hosting additional instructional videos. Panopto has unlimited video storage, along with tools for editing and captioning your videos. For more information, see the Course Recordings section of our Zoom Faculty Guide and Columbia's Teaching with Panopto guide.
Learning Technology Integrations (LTIs)
Learning Technology Integrations (LTIS) are educational technologies that can be used within CourseWorks (Canvas), even though they're not initially included with Canvas.
Here's the list of LTIs currently available for use at Barnard.
Tools for Course Engagement & Student-Facing LTIs
Course Management & Administrative LTIs
There are also a few LTIs that have been approved for use by CUIT, but are not installed on our account. You are welcome to install these LTIs for your own course: Codio, Wikipedia, Redirect Tool,  Vimeo, YouTube
Interested in installing a different LTI? Reach out to courseworks@barnard.edu. Please note that it can sometimes take several weeks or months to go through the LTI approval and install process. Since most educational technologies can be used without integrated them into CourseWorks, we recommend trying out any new tools outside of Courseworks before requesting them as an LTI.
Putting it All Together
There are a few settings and features that can help you make sure all your course pieces are in place and that students can easily navigate your course. 
Publishing Your Course
You'll want to make sure any content you want students to see is published. Published content will be marked with a green checkmark icon, while unpublished content will be marked with a gray no sign icon. Click on the icon to switch content from unpublished to published, and vice-versa. 
Image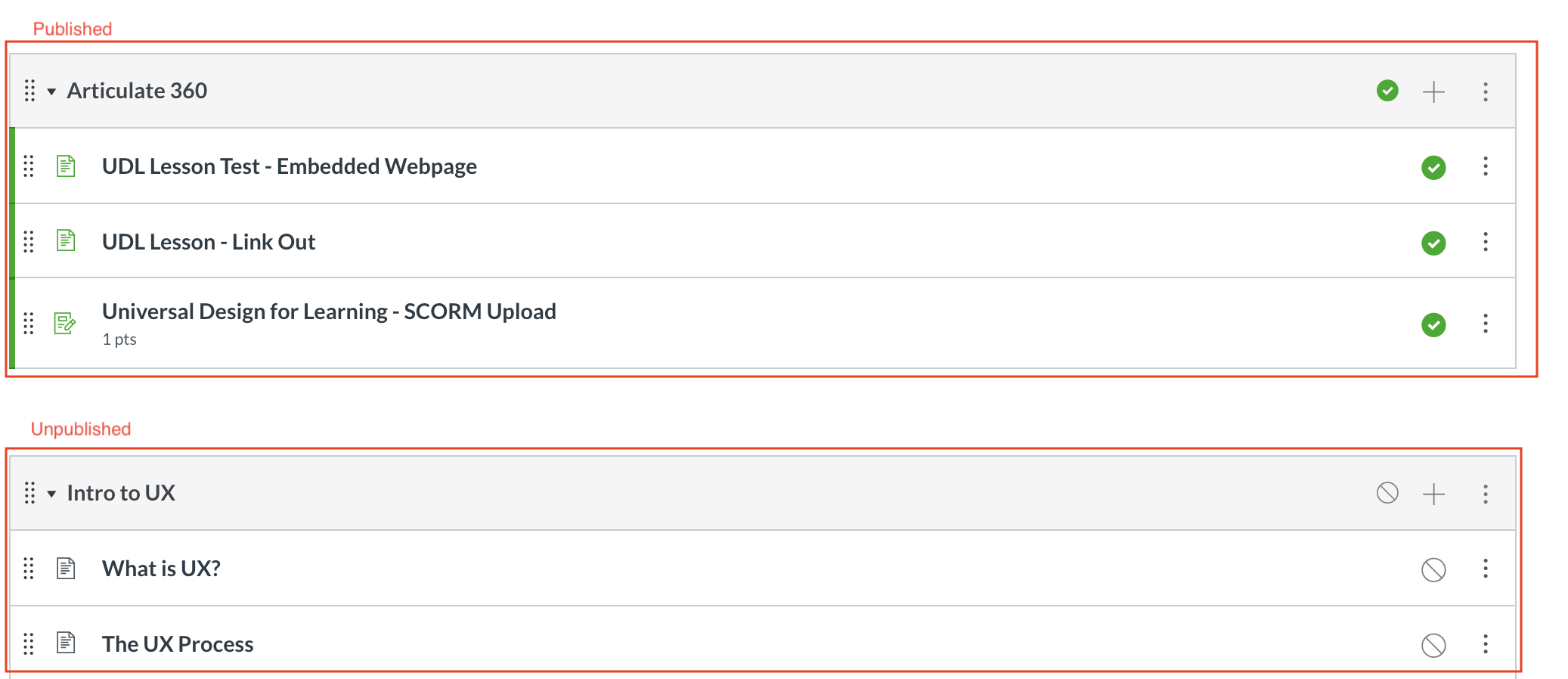 Image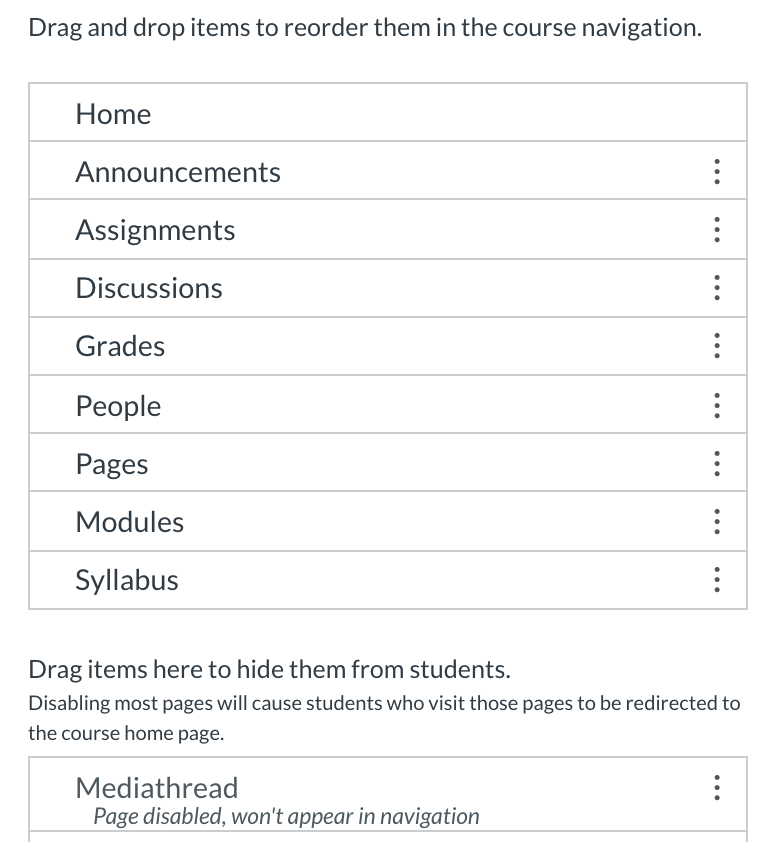 Course Navigation
You can customize your course's left-hand navigation by reordering items and hiding items you don't use. To do this, navigate to your course settings (in the left-hand navigation) and then click the navigation tab at the top of the page. Click and drag on items to rearrange; move them to the bottom column to hide them. 
Choosing A Home Page
You have a few options for your course homepage; We recommend using the syllabus, course modules, or a custom page introducing the course. You should make it clear where students can find important class materials on your homepage. To change your homepage, navigate to your current homepage and click the Choose Home Page button on the right side. For more help, see: How do I change the Course Home Page?
Student View
We recommend taking a look at your course in student view, which shows your course as a student would see it. This can help you make sure everything is showing up as intended. To enter student view, click the Student View button on the right side of your homepage. For more information, see: How do I view a course as a test student using Student View? 
Image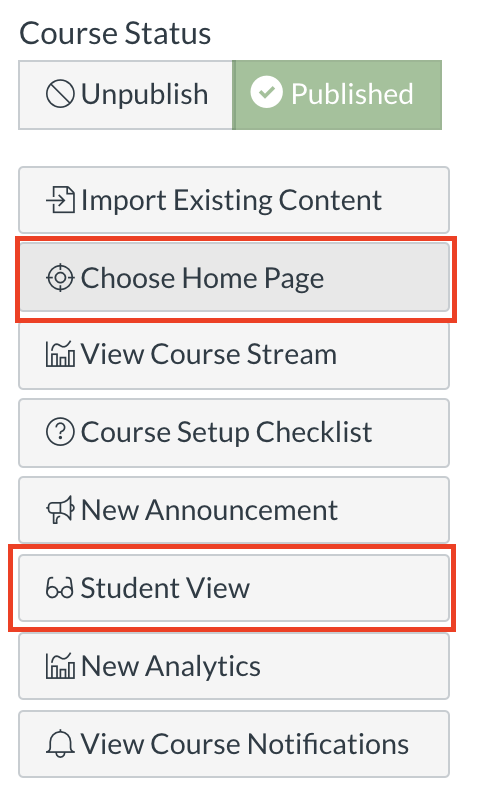 Additional Resources
Feel free to email us at courseworks@barnard.edu, and check out the guides below for more CourseWorks help.