Digital accessibility is the practice of designing websites, documents, and other digital materials in way that creates an equitable, enjoyable experience for those with disabilities. Whether we're vetting a new educational technology tool or teaching students web design, we weave digital accessibility into our work at IMATS. Below, some additional ways we support digital accessibility at Barnard. 
Making Course Materials More Accessible
Ally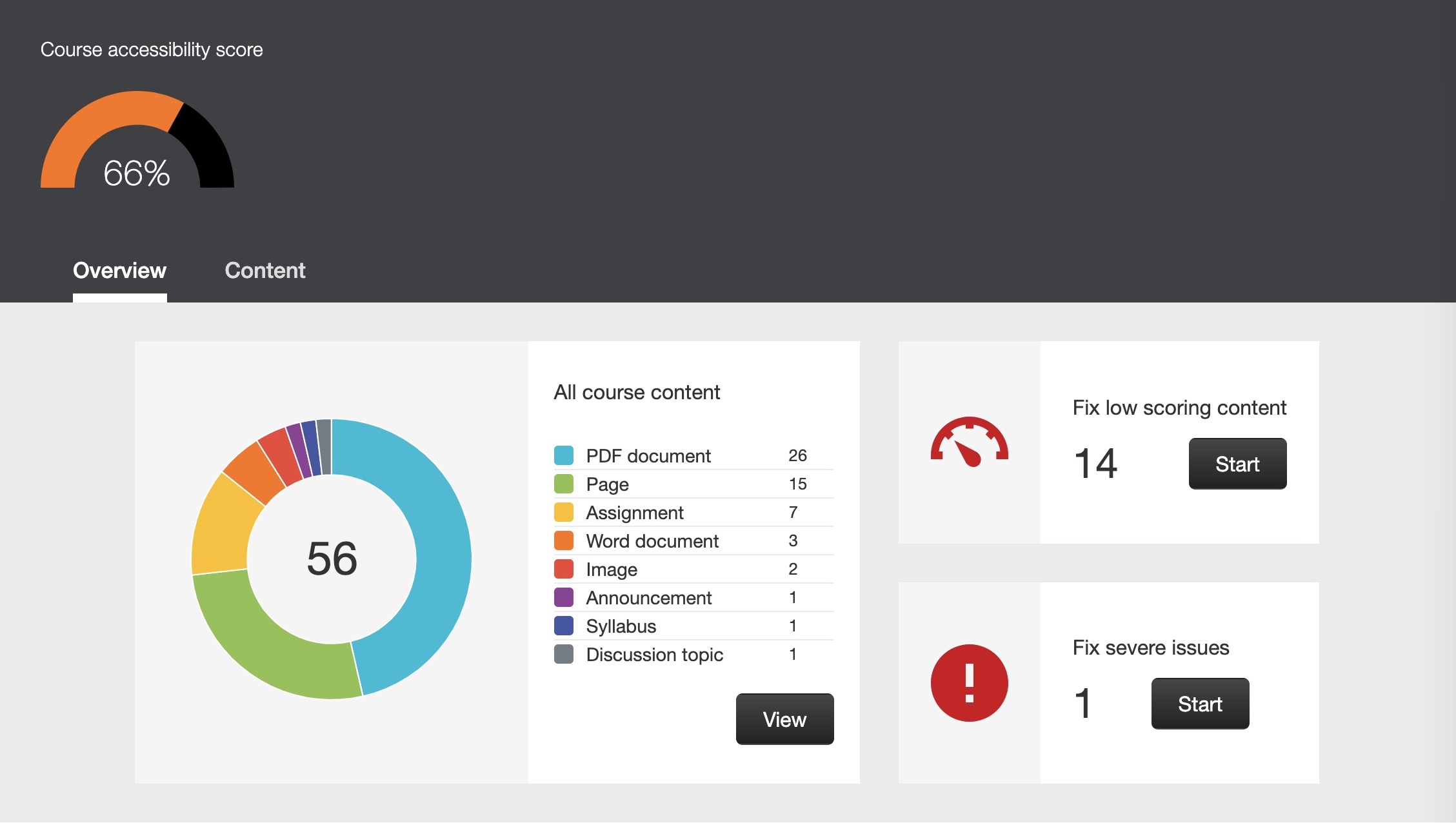 Ally software aims to increase the accessibility of course materials in CourseWorks (Canvas). The software checks content for accessibility concerns and provides guidance for remediation. Ally also allows both students and faculty to download alternative formats of course materials (for example, a student could download an audio version of a PDF file and listen to the text). For more about what Ally does and how to use it, please see our Ally Training Resources. 
Ally is automatically enabled in all course sites at Barnard, but can be removed from your course upon request. If you have any questions about Ally, or would like it removed from your course, please email courseworks@barnard.edu
Consultations
IMATS is happy to meet with faculty, instructors, and TAs to provide guidance on digital accessibility. To set up a 45-min. consultation, please email us at courseworks@barnard.edu.
During a consultation, we're happy to:
Review and interpret feedback from Ally
Show the process for remediating a particular piece of content
Discuss how to implement accessibility practices more broadly
Demo assistive technology such as screenreaders
Or answer any other questions you have about digital accessibility!
Please note that we do not provide content remediation services, but we can provide recommendations about prioritizing content for remediation, as well as training on how to remediate. 
Digital Accessibility & Accommodations
As you are likely aware, students with disabilities at Barnard receive accommodations through CARDS. So why is it still important to pay attention to digital accessibility when designing course materials? First, accommodations often work best when course materials are already in an accessible format. For instance, some students with learning disabilities use text-to-speech software as an accommodation; this software can only read text accurately if the materials have been creating in an accessible way. Second, accessibility best practices can benefit everyone. For example, closed captions on a lecture video can be very useful to someone trying to study in a noisy environment. Accommodations are extremely necessary and valuable, but do not eliminate the need for digitally accessible materials. 
Trainings & Workshops
We provide digital accessibility trainings as part of special events or programs, such as Accessibility Week and the Thinking Digitally Summer Institute. Please reach out to us at courseworks@barnard.edu if you think a training or workshops could be useful for your course, academic department, or as part of an event. 
Resources
There are many digital accessibility resources out there. Below are some of our favorites.
Guides & Tutorials
Accessibility Checkers